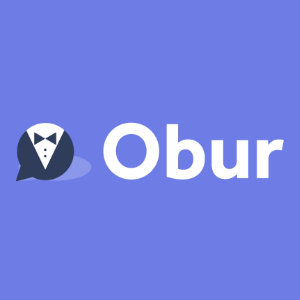 Obur allows your guests to use their mobile phone to send orders straight into your Lightspeed system without any need for staff intervention.
With Obur, your guests will enjoy fast and efficient service as they never have to wait again to be able to order and pay. This leaves your staff less occupied with taking on orders or finalizing payments, which allows more time to make sure your guests are fully satisfied. This will lead to an overall lower workload for your staff, while increasing customer satisfaction, their number of orders, and revenue.
Obur is an all-in-one ordering solution through which multiple services can be offered simultaneously. With Obur, a hospitality business could offer guests the ability to place orders for table service, room service, takeout, delivery and pick-up. The optional SMS-service enables you to inform your guests about their order status or when it's available for pick-up or takeaway.
Your guests will never have to wait again to place an order, increasing customer satisfaction, their number of orders, and revenue.
By scanning a QR-code with their mobile phone, your guests will immediately be able to order from the digital menu in their web browser. No registration or downloads required.
After browsing and selecting the desired food and beverages from your menu, the guest chooses one of the offered services, provides the necessary information for identification (i.e. table-/room number) and finalizes the order by payment.
The order is directly sent to Lightspeed as a finalized online order and treated accordingly, printed by your printers and/or showing in your Kitchen Display System.
We are a young company where hospitality flows through our veins. It is our vision to enhance both the guest experience ánd employee experience by creating innovative hospitality solutions. This will only succeed if we do so together, as partners.
Getting started with Obur is easy. In just a few clicks, your full Lightspeed catalog is integrated with Obur including products, prices, images, descriptions, categories, floorplans, etc. Reach out for a free trial and we are happy to help you get started.
Categorie:
Produit:

Restaurant